Cell phones don't cause eye cancer - instead, it can cause breast cancer?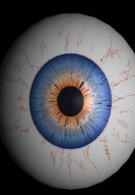 It looks as though just about every kind of disease known to man are being said to be caused by cell phones. There's always that constant fear of one developing
brain cancer
or something else due to prolonged use or exposure to cell phones. We're starting to notice more people being glued to their handsets more than ever – especially when you consider their capabilities like browsing the internet, watching television, or reading an e-book. Our eyes are constantly in the straight line of sight to our mobile devices; with some saying it could have an adverse effect. According to the the Journal of the National Cancer Institute, German researchers conducted a study and found that "regular mobile phone use does not appear to increase a person's risk of getting a type of cancer called melanoma of the eye." Although that's fine and dandy, there was another a recent case where two women were known to keep their cell phones hidden in their bras – which was said to attribute to the eventual development of breast cancer. Men on the other hand are said to also be affected by putting their sperm quality at risk if they place their cell phones on a hip pocket or belt holster. With so many horror stories surrounding cell phones, some would consider the risks and weigh in on the pros and cons. However, there is still yet any convincing or concrete studies that truly point the blame to our cell phones – but then again, you really can't doubt them when you hear about all these stories.
via
textually