Cell phone use makes people more social, according to new research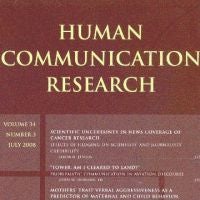 We intuitively assume that the more time someone spends with their face buried in their
cell phone
, the less time they spend interacting with the people around them. That's exactly what communication researcher Scott Campbell assumed. But that's not exactly what he found.
The study, published in the Human Communication Journal, found that
users who spend time reading the news on their mobile devices in public are actually more likely to engage strangers in conversation
. Campbell believes this is because "reading the news on your smartphone gives people something relevant to talk about with others who are occupying that space."
Campbell goes on to explain that "Information about public affairs is more relevant to a stranger than what you did last weekend." Fair enough. Moreover, the immediacy of modern news makes it even more salient, and more worthy of a spontaneous conversation.
But outside of mobile news, users are, as expected, less likely to engage strangers.
Calling, texting, tweeting, etc. were shown to detract from public interaction
. "This may show how technology can also fuel a type of insularity, where one is wrapped up in their own personal affairs at the expense of engaging with others in the public sphere," explains Campbell.
So how about you? Do you strike up conversations with strangers about the latest news?
source:
Yahoo! News