Cell phone and Wi-Fi networks affecting trees in urban areas, study finds
3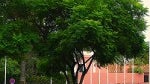 We humans know that we get less radio waves exposure sitting next to a wireless router for a year than from just twenty minutes on our cell phones. Even cell phone radiation is not proven to be harmful with certainty, and many studies are still ongoing.
The trees, however, are not taking all these radio waves flying in the urban ether very well. Dutch researchers have been examining trees in urban areas, and have come to the conclusion that: "Over the last five years... all deciduous trees in the western world are affected by radiation from mobile-phone networks and wireless LANs." The problems are exhibited in fissures and bleeding on the trees' bark, as well as growth anomalies, which can't be explained by any known viral or bacterial infection on trees. Forests outside of populated areas don't seem to be affected.
Now, we don't know the details, but there are other factors in urban areas, like the soot coming from car's exhausts, for example, that is harmful for life forms. Still, it's been a five-year scientific experiment, and we are sure the researchers have ruled most other causes out, and that's troubling.
source:
CraveUK
Recommended Stories