Cell phone addiction has a name, and yes, there is formal treatment for it
22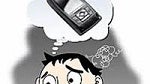 While certainly not as debilitating as other chemical based addictions, nomophobia has its first recovery center in southern California. Nomophobia is the term created by British researchers in 2008 to identify people who experience anxiety when they have no access to mobile technology.
A more recent survey by SecurEnvoy found that 41% of people interviewed had two phones or more. Half of those indicated they would be upset if a partner looked at messages or texts on their devices. The numbers get really interesting when you look at specific demographics.
70% of women, compared to 61% of men, worry about losing their cell phone. However, men are more likely than women to have two phones, 47% to 36%. Not surprisingly, the younger age groups have higher numbers of people that would feel distress of being without their mobile phone. In the 18-24 age group, 77% revealed nomophobia. In the 25-34 group, that number drops marginally to 68%. What may come as a surprise is that the third-most nomophobic group was the age-55 and over group.
According to medical definitions, needing "anything" in order to feel at ease or normal is technically a disability. The Morningside Recovery Center in Newport Beach, California has founded the first recovery group for those affected by nomophobia. The group environment is designed to help those learn to see the signs and symptoms of their addiction to mobile devices.
What seems interesting is that some of the arguments to develop a treatment program cite symptoms that many of us observe as a result of over-using the technology as well. For example, people who rely on their phones to communicate their emotional state and become obsessed with always having access to "being connected," they become vulnerable to isolating themselves. The same thing apparently happens if nomophobic person is separated from their beloved gadget(s) and the result is the same, more isolation and less interaction with other people.
Morningside Recovery Center is ready to assist those who may be contending with nomophobia: if you are unable to turn your phone off – ever, or if you obsess over battery usage and constantly check for new messages, those may be signs. In addition, constant checking for calls or taking your device with you to the bathroom may be part of the symptomatic reality of nomophobia. Should you make the call to the recovery center, just beware that Newport Beach is among the wealthiest and most affluent communities in the world, so treatment likely does not come cheap.
For the rest of us, do not forget your smartphone when you have to visit the restroom or water closet.
source:
FOX News