Carriers to benefit from the new iPhone along with Apple this year, subscribers on the losing side
7
AT&T and Verizon have been doing pretty well, since it became clear they are trying to wiggle out of the smartphone subsidy shackles that have plagued their bottomline since the iPhone introduction in 2007.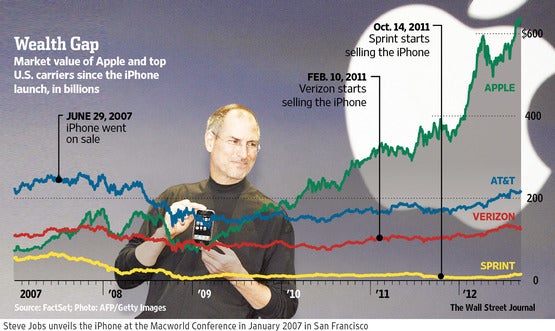 By raising the phone upgrade fees, introducing shared data plans, and diversifying their portfolio away from the iOS-Android duopoly, AT&T's stock is up 24% this year, and Verizon's 10%.
The introduction of the new iPhone, analysts believe, will carry that fat margin trend even further for carriers. It is widely believed to include a multiband LTE radio inside, to the extent that the world would be shocked if it didn't, and customers with LTE devices consume twice more data than average - 1.2GB vs 0.5GB for non-LTE subscribers.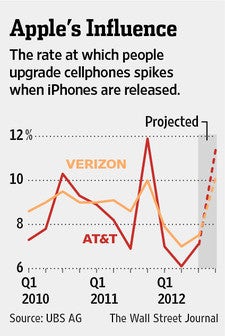 Moreover, tricks like AT&T saying that
those who want FaceTime video chat will have to subscribe to the new data plans
, are poised to bring in additional revenue.
Despite Verizon's status as the first to roll out a comprehensive LTE network, only 12% of its 89 million subscribers are using it so far, and the launch of a new iPhone with LTE is likely to lure people into the new and expensive mobile data plans.
As you can see in the chart, data usage has traditionally spiked with the launch of a new iPhones, but carrier margins have plummetted then due to subsidy expense, so with the new rules in place both Apple and the carriers are preparing to laugh all the way to the bank, while subscribers are likely to see their cell phone bills rise.