Security researcher receives a cease-and-desist for exposing tracking software in Android devices
15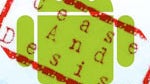 Carrier IQ has come under fire recently for its software that is found on several Android devices, including those manufactured by Samsung and HTC. Reports have surfaced that its tracking software creates detailed logs of everything that occurs on the phone.
Carrier IQ describes itself on its website as "
the leading provider of Mobile Service Intelligence Solutions to the Wireless Industry
" and released a media alert on November 16th, 2011 offering clarification on how its product is used and the information gathered. Carrier IQ insists that its software is used to monitor the device's performance so that manufactures can improve the user experience. Carrier IQ says, "
While we look at many aspects of a device's performance, we are counting and summarizing performance, not recording keystrokes or providing tracking tools. The metrics and tools we derive are not designed to deliver such information, nor do we have any intention of developing such tools.
"
Last week, Trevor Eckhart, the security researcher who found the software and exposed it, received a cease-and-desist letter. Carrier IQ is accusing him of infringing the copyright of Carrier IQ's publicly available training materials that Eckhart included in his research that he posted on Android Security Test. Carrier IQ included a list of demands in the letter, some of which include, retracting the original post, releasing a press release to the AP wire with a statement written by Carrier IQ, and cease and desist from making unsubstantiated allegations and passing any false or unsubstantiated public comment related to Carrier IQ, although Carrier IQ has not clarified which of Eckhart's postings are considered '
false
' or '
unsubstantiated
'.
Eckhart has retained the Electronic Frontier Foundation, or EFF, as legal council. The EFF claims that fair use and the First Amendment right to free expression protect Eckhart's use of the training materials. The EFF states in a letter to Carrier IQ, "
Given that there is no basis for your legal claims, we must conclude that your threats are motivated by a desire to suppress Mr. Eckhart's research conclusions, and to prevent others from verifying those conclusions. Mr. Eckhart stands by his research and, accordingly, declines to meet your demands.
"
source:
EFF
via
The Verge