Carphone Warehouse has been sending out refurbished Samsung Galaxy Note 7 units to customers?
19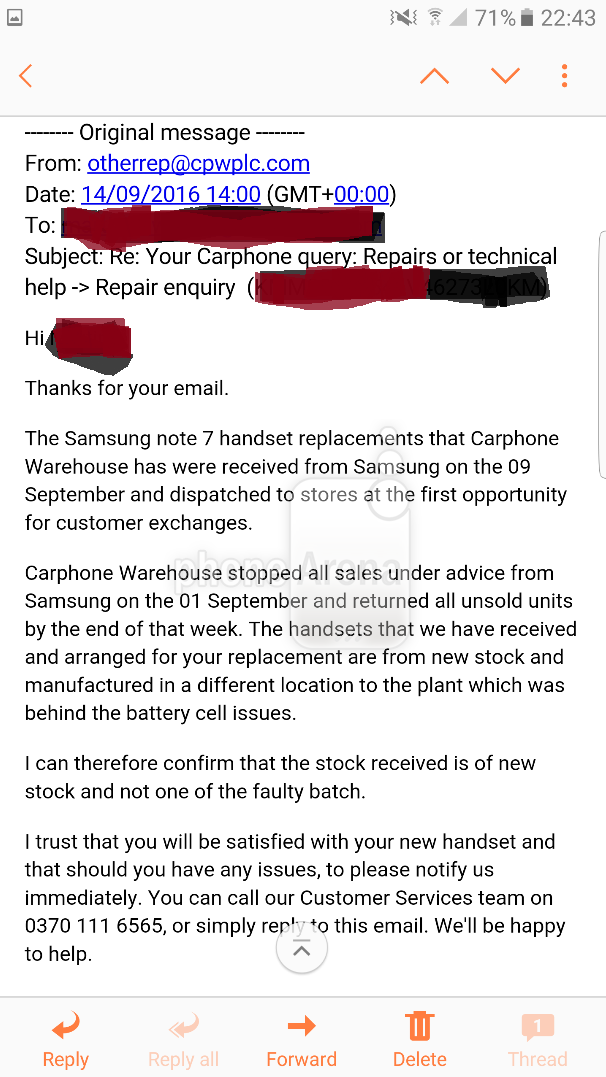 Carphone Warehouse is sending out refurbished Samsung Galaxy Note 7 units to replaced recalled models?
U.K. retailer Carphone Warehouse is apparently sending out refurbished
Samsung Galaxy Note 7
units to some of its customers who had purchased a brand new phone when it was launched. A loyal PhoneArena reader has received what he thought was a brand new replacement Galaxy Note 7 from the U.K. retailer. He also received an email stating that Carphone Warehouse received some
replacement
(emphasis ours) Samsung Galaxy Note 7 units on September 9th and has sent them immediately to stores to be used for customer exchanges. Note that the letter does not say whether the replacements came from Samsung.
The email says that Carphone Warehouse had stopped selling the Galaxy Note 7 on September 1st, and had returned all inventory of the phone to Samsung by the end of that week. The replacement units that Carphone Warehouse has received are from new stock and were manufactured in a different plant than the one that assembled the Galaxy Note 7 units with the faulty batteries. Carphone Warehouse "can therefore confirm that the stock received is of new stock and not one of the faulty batch." That does not mean that the replacement units it has sent out are not refurbished Galaxy Note 7 units.
UPDATE:
Carphone Warehouse has issued a statement. "I can confirm that all of Carphone Warehouse's replacement units come from Samsung and are authorized new units as part of Samsung's UK exchange program."
Our reader has provided us with the IMEI and serial number of the replacement phone. The serial number starts with RF which indicates a refurbished phone. And Carphone Warehouse did not send the replacement in a new box which is how most refurbished models are received.
While many retailers and carriers use refurbished models to replace damaged devices covered by the warranty, it would be strange for enough refurbished models to be available so soon after the launch of the phone. With the unique circumstances of the Galaxy Note 7 in mind here, we hope to get some statements from Carphone Warehouse and Samsung clarifying the matter.
Thanks for the tip!