Card.io launches Android and iOS payment app
1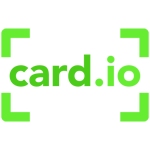 Card.io, a supplier of online payment
solutions
, released a consumer product for Android and iOS users today. Like their
developer platform
, the apps are based around Card.io's proprietary solution for scanning in your credit card with a smartphone camera, and then being able to use it for online payments.
The new apps aren't designed to let you pay for your groceries in the checkout aisle, but rather as a way for person to person money exchange. Say for example you're having lunch with friends and one of you has to pay on a credit card. Rather than trying to convince the restaurant to run your cards separately, one of you could pay for the meal while the others pay that person with Card.io. Just enter in the recipients email address and you can send money to them, which is deposited in a designated bank or
PayPal
account
.
The apps are free, but a fee of 3% plus $0.30 is charged per use. In addition to the mobile apps, Card.io also announced an improved mobile SDK, to let developers leverage mobile card.io app payments from inside their own apps. The Card.io app competes with PayPal mobile, and to a lesser degree with other online payments, like
Square
and
Google Wallet
, although those are aimed more at commerce than personal transactions.
Anyone looking to grab this and try it out? If so let us know what you think about it!

source:
TechCrunch
links:
Android Market
,
App Store