Canalys: smartwatch shipments to exceed 5 million in 2014
6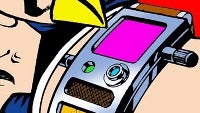 Calling smart watches the most important new product in consumer electronics since the
Apple iPad
brought us the tablet, research firm Canalys says it expects shipments of more than 5 million smartwatches in 2014. Led by Sony and Motorola, only 330,000 smartwatches shipped in 2012. Thanks to new watches like the
Pebble smartwatch
, 500,000 units are forecast to be shipped this year. The
ten fold surge
in shipments to 5 million next year will happen as Apple, Samsung, Microsoft, and Google enter the market, according to Canalys.
"Smart watches will be the most important new product category in consumer electronics since the iPad defined the market for tablets...Software platforms tied to smart watches will also be a tremendous opportunity for developers to write apps in categories such as health and wellness or sports and fitness."
-Chris Jones, VP and principal analyst, Canalys
Recently, we passed along word that
Apple is having problems getting its iWatch past a certain design issue
that its current team can't seem to get past. As a result, Apple has been aggressively hiring talent in an effort to get the watch to market as soon as possible. But any delays, especially on the part of Apple, could jeopardize Canalys' prediction. The recent news about Apple's hiring plans suggests that we might not see the iWatch unitl
late next year
.
Also jeopardizing the prediction is the research firm's own definition of a smartphone. "
Canalys defines smart watches as smart wearable bands. Smart wearable bands are multi-purpose devices that can run

third-party computing applications

and are designed to be worn on the body, and not carried
." Canalys analyst James Wong says, "
Creating a competent developer platform specifically for the form factor will be an enormous challenge. Google and Microsoft must execute more successfully than they have done with their tablet platforms and will have to adapt their business models appropriately
."
source:
Register