Canadian carriers Telus and Bell are facing class action lawsuits over rounding-up voice minute billing
4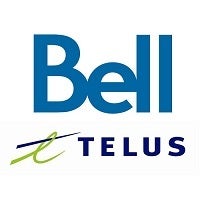 By and large, mobile rate plans in many markets have gone the route of "unlimited" with the exception of data in some cases. There are some pre-paid plans among the larger carriers that count voice minutes in their plans, but they are few and far between.
Canada's second and third largest carriers, Bell and Telus, still have a number of rate plans that tally the minutes. The current rates are not what anyone would call a bargain either, with 500 minute plans on the two carriers costing $50 (US $44) per-month.
At least the plans include unlimited SMS and MMS as part of the package, but if you were a customer in a market that could still command 10-cents per minute for mobile voice, you would be counting your minutes carefully, and probably scrutinizing your bill with just as much of a eagle-eye.
When these types of plans were more prevalent years ago, Bell and Telus would bill their customers on a per-second basis, an admirable practice indeed. However, a class action lawsuit filed in Ontario alleges that the carriers switched their billing practice in mid-2002 which rounded-up unused minutes from a phone-call.
Instead of being billed for a call that lasted a minute, ten seconds (1:10), the system would bill 2-minutes off the prevailing rate plan. The lawsuit has been filed to address an issue claimed to have "affected millions of Canadians" who were customers of Bell between August 2006 and October 2009, and Telus customers who were residents of Ontario between August 2006 and July 2010.
The suit alleges that customers were not informed of the practice that rounded-up per-minute billing. The eligible class in the lawsuit would be customers who signed service agreements with a purchased block of minutes between the aforementioned dates.
An attorney with the firm that filed the lawsuit says that customers have a "right not to be misled when entering a standard form contract." He further indicated a hope to see mobile phone transactions become "more transparent."
While there is certainly an upside to clarity in mobile service billing, we do not expect a windfall for anyone other than the lawyers in this case. If class-action suits in the great white north are anything like they are in the US, the legal teams will split a check while the class participants will get a coupon for day-old sushi at the local pizza shop.
source:
MobileSyrup