Canadian-Dutch investigation says WhatsApp violates privacy laws
5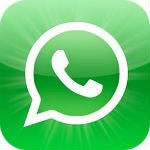 Popular messaging app WhatsApp may be in a bit of trouble. It seems that the app has been under investigation for about a year through a joint government action between Canada and the Netherlands, and the investigation has found that the app violates privacy laws.
WhatsApp has improved security during the year it has been under investigation by adding encryption to messages sent between users and switched to a more secure method of generating authentication keys. But, the app still violates "internationally accepted privacy principles ... in relation to the retention, safeguard and disclosure of personal data." Specifically, WhatsApp gains access to all contacts on a device, whether or not those people use WhatsApp themselves, but what's worse is
that data is uploaded to WhatsApp's servers without user consent
.
According to Canadian and Dutch privacy law, "that information may only be retained for so long as it is required for the fulfillment of an identified purpose." The report went on to mention other privacy concerns such as a lack of privacy controls which means anyone can see a user's status updates without the user's knowledge as long as they have that person's phone number.
WhatsApp says it will create an alert system and streamline its terms of service and policies by the end of September 2013, but Canada and the Netherlands also plan to continue the investigation.