Can the more open nature of iOS 8 bring the Android marginals into the Apple fold?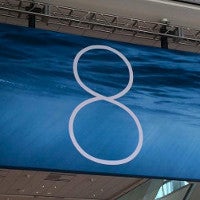 With Apple's iOS 8 announcement now out of the way
, we're slowly edging towards a place where the analytic parts of our brains start mercilessly weighing things, measuring. As with most major iOS updates, iOS 8 introduces a plethora of changes -- most small, but also a few that are pretty major. Indeed, and much unlike Apple, certain changes go against its typical, closed-garden-style approach.
What do we mean? Simply put, Apple is opening up in a number of areas and though that's quite irregular for Apple, it's every bit the exciting news a fair number of people have been waiting to hear word of. Us included. For example, Apple's so-called Extensibility program means iOS 8 will allow apps to communicate with and rely on each other's functionality in a far more open manner than ever before -- the share button will now have a more extensive list of apps to go to, and you'll be able to use, say, VSCO Cam filters right through the default iOS camera app.
Apple didn't stop there. Despite announcing some rather interesting changes to its default keyboard, the Cupertino folks announced that iOS 8 will also allow third-party developers to get in on the fun, and offer their own takes on the format through the iTunes store. Further still, the embedded TouchID fingerprint scanner will now be open (to a certain degree) to apps other than the default stack that comes with iOS, allowing for more flexibility than ever before. Both of these are changes that, just a day ago, we would've thought quite unlikely.
All told, there's no denying that with iOS 8 Apple is getting closer to a very defining Android trait -- openness. Therefore, it's not unfeasible to speculate that quite a few Android marginals may have just gotten a very enticing reason to give the still comparatively closed iOS a chance. Do you agree?