Can the Galaxy Note 4 be more important to Samsung than the Galaxy S5?
99+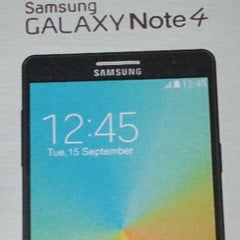 Samsung already announced that it would unveil
a brand new Galaxy Note on September 3
. Even more, the company today
released various teaser images
in China, thus confirming that the new device is the long-rumored
Galaxy Note 4
.
The announcement of the Note 4 comes at a crucial time for Samsung. The South Korean company's
smartphone sales are slipping, and so is its operating profit
- despite the fact that its
Galaxy S5
flagship is available all over the world since April. Following
a strong start
, Galaxy S5 sales
slumped after only a few months
. There's no denying that the S5 is one of this year's best smartphones (as
our review of it
concludes), but there are simply too many nice alternatives to it - not to mention all the affordable, yet powerful handsets from China.
While the S5 has many direct rivals, this can't be said about the
Galaxy Note 3
. There's no other extra-large smartphone (or phablet, if you will) that can offer the combination of high-end hardware and software features that the Note has. The S Pen stylus and Samsung's suite of specific apps for it make the device a unique one. We assume that everyone's expecting the Galaxy Note 4 to be better than the Note 3 - thus, once more, this has the potential of being a handset with no direct competitors. Reportedly, the Note 4 will feature a 5.7-inch Super AMOLED display with 1440 x 2560 pixels, a 16 MP rear camera, 3 GB or 4 GB of RAM, and a Snapdragon 805 (or Exynos 5 Octa) chipset.
Samsung
shipped 10 million Galaxy Note 3 units
in two months from launch, and continued to ship millions more since then (the 10 million milestone was achieved in December last year). Do you think the Galaxy Note 4 can be even more successful, thus helping Samsung to return to high profit margins? If that's the case, the Note 4 will be more important to Samsung than the S5, wouldn't it? Feel free to cast your votes in the poll below, or weigh in in the comments if you have answers that go beyond a simple
yes
or
no
.