California's Attorney General has ideas to boost mobile app privacy
2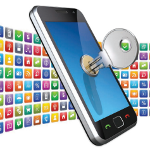 California Attorney General Kamala Harris has issued a report called "Privacy on the Go: Recommendations for the Mobile Ecosystem," that takes a look at ways that people can understand what personal information is being
obtained by third party apps
, how it is being taken, and which third parties are gaining access to this information. The report also lists suggestions, such as using special notifications and icons, to alert users how this identifiable information is being discovered and shared.
Motion
. The group was charged with trying to find ways to put some bite into the
California Online Privacy Protection Act.
When some developers were
not posting the required privacy policy
with their apps, the Attorney General gave them 30 days to post it or face legal action. Delta Airlines has become the example of what can go wrong for corporations and developers with such a determined AG in office. It has had a "Fly Delta" mobile app since 2010 but never posted a privacy policy since 2010 which led to the state taking the airline to court.
According to the FTC, California was the state with the highest number of identity thefts in 2010. This led Harris to put together a state-wide "e-crimes unit" and her fight continues today with the new guidelines. According to Harris, app developers should sit down and figure out which personal data the app could collect and to base a privacy policy on that information. She adds that developers should refrain from collecting personal data that is not required for the app to function. When a privacy policy is posted it should be easy to find and easy to read.
For app platform providers, the AG suggests that privacy policies be easy to find so that users can read them before downloading an app, and the platform should be used to teach users about mobile privacy. Mobile ad networks should avoid using out of app ads that to be delivered require the modification of browser settings. She also says that mobile ad networks should devise a privacy policy and have it made available to developers. Mobile carriers should educate their customers on mobile privacy,
especially for children
.
"Californians want to know what personal information their apps collect, how it is used and with whom it is shared."-Kamala Harris, California Attorney General
source:
PrivacyontheGo
via
PCMag