California governor vetoes bill designed to strengthen law against using a cell phone while driving
11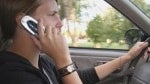 California governor Jerry Brown vetoed a bill on Wednesday that would have strengthened the state's current law against using a cell phone while driving. Since 2008, it has been against the law for Californians to drive a car while having a handset held up to an ear. Hands-free use is permitted whether it involves the use of a speaker or an earpiece. The new law would have
made it against the law to use a bicycle while talking or texting
on a cell phone. Since the bill was vetoed, California bike riders are spared from having to put away their cell phone while riding.
The bill, approved by the legislature, would have
increased the fine for first-time offenders to $50 from the current $20 and two-time offenders would have been hit with a $100 fine
. But after various taxes and penalties charged by California cities and counties, the actual fee for a first-time offender would have been a whopping $328 and $528 would have been charged for a second offense based on a study done for the California Senate. It was the amount of the fine that persuaded the governor to veto the bill. "
I certainly support discouraging cell phone use while driving a car but not ratcheting up the penalties as prescribed by this bill
," said Governor Brown in his veto message. He added that the current fines and penalties schedule should be enough of a deterrent for the average person.
33 states, Washington D.C. and Guam ban texting while driving according to the Governors Highway Safety Association. 30 states, including California, ban cell phone use under all conditions, for those drivers under 18 years old.
source:
Reuters