Did you know that CNN sells Apple iPhone accessories, including cases and cables for up to 66% off?
9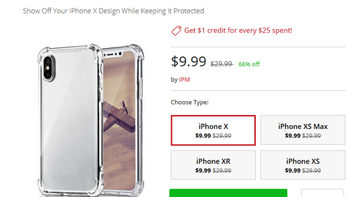 CNN is known as the 24/7 cable news channel created by Ted Turner in 1980. These days, CNN is owned by WarnerMedia, which is a subsidiary of AT&T. For mobile news junkies, CNN is available on multiple platforms including
apps on iOS
and
Android
that stream live video of CNN, CNN International, and HLN (formerly Headline News) with verification of a cable subscription.
Another deal offers a bundle of MFi (Made for iPhone) cables that are certified by Apple. These include a Lightning to 3.5mm headphone dongle, a Lighting to USB-C cable, and a regular Lightning cable. Normally priced at $99.99, CNN is selling the trio together for $39.99, or 60% off. This deal has three days left to run.
Other products being sold include an attachment that helps smartphone users take pet selfies, 48% off at $12.99. A QYLX smart magnetic car mount is 23% off at $37, and a universal 3-in-1 lens kit for smartphones and tablets is 66% off at $9.99.
For every $25 you spend at the CNN Store, you will also receive a $1 credit toward a future purchase.