BlackBerry nabs Alicia Keys, Neil Gaiman, and Robert Rodriguez for "Keep Moving" campaign
8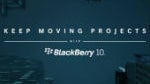 Given the amount of money that Microsoft has been throwing at celebrities to be in commercials, it probably shouldn't be a surprise that BlackBerry is aiming to do the same thing, but is actually pushing it a bit farther. With the new "Keep Moving Projects" campaign for BlackBerry 10, celebrities (and artists) Alicia Keys, Neil Gaiman, and Robert Rodriguez have all been recruited to help push BlackBerry 10.
The idea is a solid one: BlackBerry has gathered some of the "world's most inspirational people" (as per BB's press release). Each will play to their strengths of course. Rodriguez, director of
Sin City, From Dusk Til Dawn,
and
Spy Kids
(we had to include that), will be working on a film project highlighting BlackBerry 10. Neil Gaiman, writer of
Neverwhere, Sandman,
and
Coraline
, will be working on a project to "bring people together to tell stories". And then there is Alicia Keys.
Keys will undoubtedly be creating some music for the project, but she was also given the grand title of "Global Creative Director" at BlackBerry. So, it seems that Keys main duty will be to attract more artists to the project, not to mention publicly support BlackBerry.
The interesting twist for users is that all of the celebrities will be interacting with BlackBerry 10 adopters for the project, so you may get to chat with one of the artists. It's almost enough to get us to buy a BlackBerry 10 in the hopes of meeting Neil Gaiman.