Buying a Motorola Droid Turbo can get you a $150 gift card at Best Buy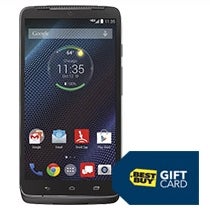 Not long ago, Best Buy started selling
a blue version
of Verizon's
Motorola Droid Turbo
for $199 on contract (the same price that's asked by Verizon). Now, Best Buy is offering a $150 gift card to customers who are getting the Droid Turbo with a new 2-year contract agreement, and a $100 gift card to those who opt for a 2-year upgrade. The deal is valid until this Saturday (December 13), and includes not just the blue variant of the handset, but also the black one.
Released at the end of October, the Droid Turbo is available in the US only on Verizon. It's one of Motorola's latest high-end smartphones, featuring a 5.2-inch display with 1440 x 2560 pixels and a 565 ppi density, a 21 MP rear camera, 3 GB of RAM, and a quad-core Snapdragon 805 processor clocked at 2.7 GHz. The Turbo also includes a massive 3900 mAh battery. Make sure to read our
Motorola Droid Turbo review
to find out more about the smartphone.
The Droid Turbo is also available outside of the US, under the name of
Motorola Moto Maxx
. However, you can only get it in select Latin American markets, and Motorola didn't say if it's going to launch it elsewhere.