Buyer beware: Those Apple Watch "prototypes" for sale are not real
11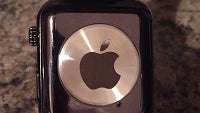 You really should not be surprised that purported prototypes of unreleased devices are making their way to the surface, luring eager, gullible minds into giving up their hard-earned money on the promise of being "the very first" person with the latest and greatest gadget.
Some poor sap bid $260 on eBay for a "prototype" Apple Watch today. Sadly, this watch is a dead-ringer for
the fakes that were spotted
being sold at CES for under $30 apiece.
Of course, this item that sold on eBay has an Apple logo on the back so it must be authentic right? On top of that, the seller claims that this unit was obtained by his or her cousin that purportedly works at Apple. eBay accounts sometimes get compromised and given this seller had not sold anything in several months raises a flag or two. Probably the only consolation is that the purchase is protected by eBay's money back guarantee.
We like being first too, but don't let yourself get carried away, lest you experience the old adage, "A fool and his money are soon parted."
via:
Cult of Mac