Brokerage firm says to expect voice recognition in iOS 5
80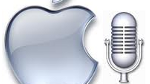 Piper Jaffray analyst Gene Munster is not unknown to our loyal readers. After all, Munster made many prognostications about the Apple iPhone 4 before the model was eventually launched. Now, turning his attention to
next week's Apple event
, Munster says that
the invitation itself is a clue that Apple will offer voice recognition
in the upcoming iOS 5.
Telling his clients that Apple is known for including "cryptic" clues in its invitations sent out before a major announcement, Munster theorizes that the use of the phrase "
Let's Talk
iPhone
",
used by Apple as a tagline for its latest invite
, indicates that voice recognition will be on the new iOS 5 operating system which will be used by the new version of the phone. On the other hand, Munster acknowledges that the tagline could just be a play on words. Despite speculation that voice recognition would be included in iOS 5,no such feature was shown off by the Cupertino-based firm at its World Wide Developer's Conference.
Apple's acquisition of Siri in April 2010 gave the iPhone manufacturer voice recognition functionality. Siri's personal assistant app for the Apple iPhone allows users to say commands and have the phone respond appropriately. Since then,
a partnership with Nuance Communications
has led some to believe that while the feature wasn't ready for prime time at WWDC, it is ready now for the Apple iPhone 5.
Munster expects Apple to introduce next week a new Apple iPhone 5 with a $199/$299 subsidized price tag, and a previous generation model like the Apple iPhone 4 or iPhone 4S that will go for $99 subsidized. He expects heavy demand from Verizon customers, 74% of which said in a Piper Jaffray survey in August that
they are waiting for the next model of the device
instead of purchasing the iPhone 4. As a result, he expects that more than the originally estimated 4.4 million units will be sold at Verizon for the December quarter. And he feels that his estimate that overall 25 million Apple iPhone units will be sold in that quarter, will prove to be too conservative.
source:
AppleInsider