Broker: Sprint promised certain Tour sales to RIM in exchange for launch date near Verizon's
This article contains unofficial information.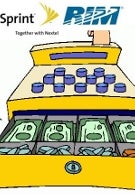 Wall Street brokerage house UBS is reporting that in order for Sprint to launch its version of the BlackBerry Tour 9630 so close to Verizon's release, the pin-dropping network had to promise to meet a certain sales level to BlackBerry manufacturer RIM. Analyst Phillip Huang wrote in a report that while historically Sprint has lagged behind Big Red by 6 months when it comes to product launches, the carrier has not only promised certain unit sales to RIM, but also has agreed to heavily promote the phone with high levels of ad spending. Verizon has
officially announced
a July 12th release for the handset while Sprint has been
expected
to launch the Tour on July 20th.
Commenting on RIM, Huang says that he expects the back half of 2009 to see more launches from BlackBerry including an October release of the Storm 2 and the Curve 8520. The Storm 2 will be a touchscreen device like the original Storm and will have mostly similar specs except that it should include Wi-Fi. The 8520 is supposed to replace the usual BlackBerry trackball with an optical trackpad. The analyst thinks that by replacing the easily worn down trackball, less money will be spent on warranty repairs which should widen RIM's profit margins.
RIM BlackBerry Tour 9630 Specifications
RIM BlackBerry Storm 2 Preliminary Specifications
BlackBerry Curve 8520 Preliminary Specifications
|
Review
source:
FierceWireless