Bridge Constructor - make bridges, have fun!
6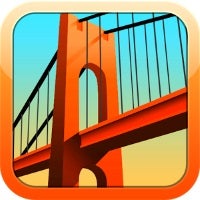 Did you toy around with bridges and planes as a wee kid? If so, then Bridge Constructor is another childhood delight immortalized in the form of something you can download and play on your smartphone. In Bridge Constructor, you become an architect that creates bridges from a godlike point of view. There are 40 different levels that will see you bridge roads over beaches, valleys, canals, and rivers. Sorry, there are no space levels... yet.
So, how do you turn bridge construction into a game? Well, you are presented with a choice of materials, such as wood, cables, or concrete pillars. You are also given a budget, which usually isn't enough to buy only the best stuff - just like real-life bridge building! This means you'll have to find the best possible solution and approach out of many possibilities. When you think you've figured it out, place your materials on a grid, complete a bridge, and it's time for stress-testing! Hopefully, the whole thing won't crumble when a bunch of cars and trucks start driving over it.
Bridge Constructor's free version (only on Android for some reason) has only 8 levels from the full version, which costs about $1.99 and it has the full 40 levels, in addition to a free build mode, 5 settings, and three different cars to test your bridge with - a car, a truck, and a... tank-truck, of course! Overall, this is a nice little brain-moving game. And if you don't like it for some reason, but enjoy the concept of building stuff on a grid, there are plenty construction simulators on Android and iOS.
Download Bridge Constructor Free:
Android