Bracketron's Universal USB Power Dock Pro Flex accommodates pretty much any smartphone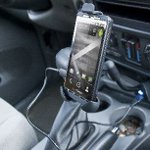 Unlike some of those suction type of cradles that hold smartphones and other mobile devices in place, while still attached to your windshield,
Bracketron's
new offering aims to eliminate the obstructive view that one experiences while driving.
Today, Bracketron announced the availability of its
Universal USB Power Dock Pro Flex
, which is none other than a durable smartphone holder with a high output 12V USB port. As its name implies, its universal accommodation enables it hold onto any kind of smartphone – from small to big, it'll be to handle it. Essentially, you place the Universal USB Power Dock Pro Flex into your car's DC power source, and once it's snuggly secured with its SmartGrip feet and PowerGrip arms, you can move the flexible neck to any angle that's optimum to you.
Vice President of Marketing at Bracketron, Christian Johnson, said, "
the USB Power Dock Pro Flex is a secure way to charge and mount your smartphone and other mobile devices without worrying about it falling off your dashboard or seat should you suddenly break or turn. Along with providing versatility and convenience, the Power Dock Pro Flex offers a safe, hands-free way to use your phone's GPS, music, or other functionalities while charging it
."
durable molded high impact plastic
, it's accompanied with a
soft touch finish
to give it that elegant feel in the hand. For those of you interested in picking it up, it's available for purchase right now through Bracketron's web site and other national retailers for
$34.95
.
source:
Bracketron