Both DROID X and DROID 2 to get 1GHz processor
This article contains unofficial information.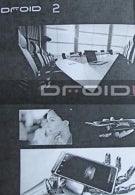 Yeah, it seemed a little strange. Why was Motorola so gung-ho on producing a 2GHz phone later this year and yet, put a 720MHz processor in the upcoming dynamic duo, DROID X and DROID 2? Well, the answer is simple-Motorola IS putting a 1GHz processor in both of its new Verizon bound Android devices. A couple of leaked slides show that the CPU for both phones is indeed running at the current 1GHz standard. It only makes sense because the DROID X (MB810) beat out all other phones running Android
2.1
based on system benchmark results.
The slides are part of scripts and pictures for upcoming commercials for both phones. In the DROID 2 commercial, an off-screen voice says, "Does' used to do a lot. Now it does even more. Now it does Email Exchange, so you can be hooked up to everything thing you need to do. Now it does 1.0GHz speed on a sleeker, more intuitive keyboard. It does and does and does. And the only thing it doesn't do is ask for time off." So there it is, 1GHz for the DROID 2 with an improved QWERTY keyboard. As for the DROID X, the first commercial is focused on the NFL and watching games and highlights on the 4.3 inch screen that the "X" is equipped with. Also mentioned is the new "Ninjablur" multimedia app that is expected to be on all upcoming Motorola branded Android models. The third commercial focuses on a new EyeCon app that apparently comes standard with the DROID X and allows you to control all of the multimedia devices in your home. If these are legit, it really seems that Motorola and Verizon could find themselves at the very least, keeping pace with Apple this summer, and quite possibly grabbing some new converts to the Android platform.
Motorola DROID Xtreme MB810 Preliminary Specifications
Motorola DROID 2 A955 Preliminary Specifications
source:
DroidLife