Bluetooth certification hints to a BlackBerry 8900 successor - the 8910?
3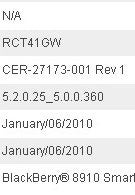 It would seem that a year would be more than adequate as the lifecycle for any handset – especially when we see this trend happening on big name phones. The BlackBerry Curve 8900 had a good run and is still regarded as one great smartphone by people, but it may soon be getting a successor in the form of the BlackBerry 8910. Other than the different model number, there's very little information about this handset – even if it really is going to be the successor. It may be very likely for it to happen after a Bluetooth SIG
certification
was seen with the 8910 moniker. Additionally no photos have been taken about this handset; so it's unclear if it'll sport a new cosmetic design or just have some upgraded specs. In the mean time, we're sure that there are plenty of other RIM handsets launched recently to get your mind of it in the mean time.
via
Unwired View