Blue Skies brings hyper-local weather to Windows Phone
4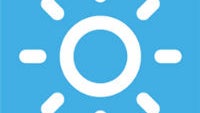 If you haven't tried out a hyper-local weather app yet, we would highly recommend it. The idea is simple: there is a lot of weather data out there, enough to be able to tell you with a high degree of accuracy if and exactly when it will start or stop raining in your location in the next hour. There have been options on Android (Arcus) and iOS (Dark Sky) for hyper-local weather, and now Blue Skies is bringing it to Windows Phone.
All three of the apps mentioned use weather data from Forecast.io to give you weather reports for the next hour, the next 12 hours, 24 hours, or a 5 day forecast. Weather reports will be as detailed as you would expect, with temperature, humidity, precipitation, and severe weather warnings. Depending on where you live, you'll be able to get very accurate reports telling you exactly when it will start raining and how intense the rain will be in the next hour.
We say "depending on where you live" because some places have weather that is much more unpredictable than others. For example, in using Arcus on Android, we've found that the service works wonderfully in the Boston area, but it will have troubles in Miami. Luckily, Blue Skies is free until May 1st, so you can test it out and see if it works for you. After May 1st, the app will cost just $1.29.