Blackberry Q10 surfaces in white
7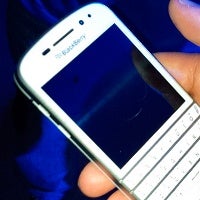 The full QWERTY
BlackBerry Q10
looks like a blend of the past and future with the physical keyboard and the modern operating system that is BB10, and now it has been spotted in a gorgeous white version at BlackBerry's yesterday launch event in New York City.
The white BlackBerry Q10 was the device carried by none other than company chief marketing officer Frank Boulben. Boulben appeared happy to show it off to journalists for a few moments.
We haven't heard anything officially about a white Q10, and for the black one we know that Verizon, AT&T and Sprint will be carrying it. Hopefully, the white version arrives on those carriers as well. Take a look at it right below.
source:
CrackBerry