BlackBerry's John Chen is runner-up to Apple's Tim Cook for CNN's CEO of the Year
79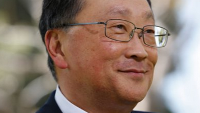 CNN recently named Apple's Tim Cook as its CEO of the Year. Considering Apple's valuation, that may not come as much of a surprise to many. But what might make readers' eyes open wide is the name of the executive that finished second to Cook; that was BlackBerry CEO John Chen. Last year at this time, most people felt that BlackBerry was set to kick the bucket and remain an icon of the past.
But John Chen has turned things around. He launched a business-centric smartphone, the
BlackBerry Passport
, that allows users to more easily read spreadsheets, emails and other reports using the wide 4.5-inch 1440 x 1440 resolution screen. He also gave a nod to BlackBerry's past by releasing the
BlackBerry Classic
with its trackpad, and old-school function keys. Chen has also
started monetizing the BBM messaging app
, which now has 91 million subscribers from iOS, Android, BlackBerry and Windows Phone. An update to the app earlier this year added the BBM Store,
which sells BlackBerry Stickers
for use on messages.
BlackBerry's shares rose an impressive 35% this year, and the company's survival is no longer in question. Chen himself now says that
he is 99% sure that the company he runs, will survive
. The CEO has a history of successfully turning around a company headed for the grave. He took over a failing Sybase, spiffed it up, and sold it to SAP for $5.8 billion dollars. Chen might not be interested in selling off BlackBerry, but he has done quite a job keeping the company alive and relevant.
source:
CNN
via
BGR