BlackBerry wants your help
16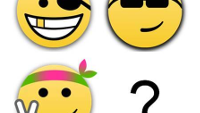 BlackBerry is looking for your help. The troubled Canadian handset manufacturer does have a litany of problems, most of which can't be solved by a simple call to arms. But when it comes to adding more emoticons, well that is something that you can help BlackBerry with. On its Facebook page, BlackBerry laid out a whole process for you to submit your new emoticon ideas.
All you need to do is click on the sourcelink and like the post, and then leave your submission including a description of what you have in mind. There are some ground rules of course. BlackBerry doesn't want to see vulgar emoticons, or one with sexual overtones. The beleaguered company is asking for submissions that you would consider PG 13. For example, some early ideas include a facepalm emoticon and one for a high five. Another suggestion was for a
wtf
emoticon, but we don't think that it meets with the PG13 requirement.
BlackBerry is taking submissions through 5pm EST on November 20. We'd love to tell you that those ideas being accepted by the company will be rewarded with a prize or a new phone, but the truth is that you are merely turning over your idea to the company. If your idea is used by BlackBerry in the future, at the least you can tell your kids and grandkids that a particular emoticon was your idea.
source:
BlackBerry
via
BerryReview