BlackBerry may lose its government exclusivity in the UK
12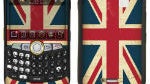 RIM has been having a pretty bad year, and it looks like it's about to get even worse. Until now, BlackBerry has been enjoying an exclusive run as the only smartphone allowed for government use in the UK, but that may be about to change.
It seems that right now, BlackBerry is the only smartphone platform with impact level 3 (IL3) accreditation, which means it is certified to handle sensitive information while working for the government. This has made BlackBerry the default platform for any government employees in the UK. But, the new Government Protective Marking System (GPMS) aims to change that by making the IL1 through IL3 categories loosely classified together as Tier 1 (T1), which would allow more smartphone platforms to be allowed.
BlackBerry still has great security features, but it has been in a steady decline for a while, and has taken a solid dive in market share over the last year. No one is sure what to expect from BB 10, whenever that launches, so it's not much of a surprise that governments have started opening up to alternative platforms.
Recommended Stories