BlackBerry is winning big in one segment
22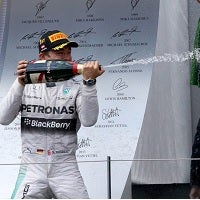 Anyone that follows even a little bit of tech news knows that BlackBerry has seen better days. John Chen has been shepherding the company through some big adjustments.
Just as the company formerly known as Research in Motion
changed its name to BlackBerry
, it announced a sponsorship deal with Formula 1 team
Mercedes AMG Petronas
, currently led by drivers Lewis Hamilton, and Nico Rosberg.
BlackBerry is a significant sponsor of the team, with the company's logo owning exclusive real estate along the team's race cars' noses. While BlackBerry is navigating the wilderness of the smartphone business, and positioning its services for continued growth, Team Mercedes, along with drivers Hamilton and Rosberg, are currently dominating Formula 1, and those podium finishes mean a lot of visibility for BlackBerry.
So far in the 2015 series, Team Mercedes is over 100 points ahead of Team Ferrari in the constructor standings. Lewis Hamilton is leading the drivers and Nico Rosberg is right behind him, though Ferrari's Sebastian Vettel is a not-so-distant third place.
Formula 1 is the bleeding edge of automotive racing, and teams gain notoriety around the world, from Austria, to Bahrain, to the United States, and Russia. BlackBerry is seeing a lot of exposure with a remarkably well run race team that is Mercedes. Many people wonder about the effectiveness of such ventures, but with an enterprise like Formula 1, it is the crème-de-la-crème of marketing opportunities.
Does it help BlackBerry sell phones? Hard to tell. However, the exposure and mindshare is worth its weight in gold when it is attached to a winning team like this. Hopefully, BlackBerry will be able leverage this momentum to drive a new edge in technology.
references:
John Chen
and
Formula 1