BlackBerry confirms the Q10 will cost $249 on contract, coming by the end of May
13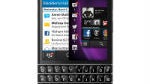 We were wondering earlier today when we saw some BlackBerry
Q10 documents
leak whether or not we should expect the device to be released soon, and now we have a better idea of what to expect from the device. BlackBerry has confirmed that the Q10 will be released in the US by the end of May and will carry a pretty hefty pricetag.
BlackBerry has confirmed that the Q10 will cost $249 with a two-year contract. That is higher than most top of the line smartphones, and it seems that
the idea behind the pricing is that BlackBerry knows that this device will not be a consumer hit, and is looking to maximize revenue from those who do want the device
.
The BlackBerry Q10 has been drumming up a bit more demand than the Z10, because a number of enterprise users have been waiting for the BlackBerry with a physical keyboard. We'll have to see if it can find more success in the market than the Z10 has so far.