BlackBerry browser battle: New WebKit version vs. old model
This article contains unofficial information.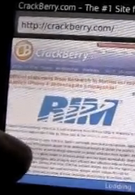 When the BlackBerry Storm was launched in November 2008 and became RIM's first touchscreen model, BlackBerry fans noticed an improvement in the web browser. While the browser could now produce more accurate site renderings, there were still many problems with it. The software was still way too slow, did not offer "pinch-to-zoom" support, there was no capability to view multiple pages and even RIM recommended disabling JavaScript which made downloading a site into a long, drawn-out affair. 'Berry fans banged their heads against the wall, seeking changes in the browser.
Lately, RIM has been listening to their customers. A new finger-friendly OS is on the way and the upcoming BlackBerry 9800 looks to be the heaven-sent answer for those who wanted a touchscreen like the Storm, but with a physical QWERTY keyboard as good as the one on the Bold 9000. Now, RIM has even listened to the complaints about the browser and for those who wanted one based on the WebKit engine, you will have it. We have
shown you
some videos of the new web browser in action and today, we have one that compares the outgoing software with the incoming one. And to make it even sweeter, the new browser is running on the 9800 slider.
So, BlackBerry fans, you will soon have a browser that appears to be right up there with the other WebKit based mobile web browsers like mobile Safari and the stock software on Android and webOS devices. Anything else you 'Berry fans want from RIM? Best to speak up now while they are in a listening mood.
RIM BlackBerry Bold 9800 Preliminary Specifications
source:
Salomondrin