BlackBerry announces one partner has ordered 1 million BB10 devices
33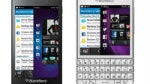 Maybe BlackBerry isn't as close to dead as we once believed, at least not in the enterprise segment, because the company shocked us today by announcing that an unnamed partner has ordered 1 million BlackBerry 10 devices. That may well amount to having all of your eggs in one basket, but at least for now it is a sign of life from BlackBerry.
This order marks the largest ever single purchase order in BlackBerry's history, but we don't know much about it. BlackBerry has said that the smartphones will begin shipping to the partner today, but we don't know if the order is for just the BlackBerry Z10, or if the order includes future releases like the Q10. BlackBerry goes on to say in the announcement that those who have been using the Z10 have given "hugely positive feedback".
The news of the large purchase led to the second big jump in
BlackBerry stock
in as many days. BlackBerry's shares gained over 8% in afternoon trading to finish the day at $15.65.