BlackBerry Z10 teardown reveals key Qualcomm and Samsung internals
9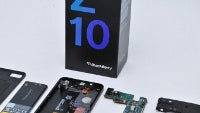 The
BlackBerry Z10
has already arrived in a few markets and while we are still waiting for it to arrive in the United States bringing the new
BlackBerry 10 platform in March
, UBM Tech Insights has torn the whole device down revealing its hardware. Somewhat surprisingly, it is very similar to the LTE version of the
Samsung Galaxy S III
in that it runs on an identical Qualcomm chip. BlackBerry has obviously ditched its previous partner Texas Instruments and opted for Qualcomm's chips.
The BlackBerry Z10 has a Qualcomm MSM8960 chip manufactured on the 28nm node with a 1.5GHz dual-core processor. The chip integrates 3G and 4G LTE on board.
Otherwise, the Z10 uses two other key Samsung components - a 2GB RAM module and 16GB of Samsung-made internal flash storage.
Below is a listing of the key hardware components in the Z10:
Samsung K3PE0E000A - Multichip Memory - 2 GB Mobile DDR2 SDRAM
Samsung KLMAG2GE4A - Multichip Memory - 16 GB MLC NAND Flash, Controller
Qualcomm MSM8960 - Snapdragon S4 Baseband / Applications Processor
Qualcomm WCD9310 - Audio Codec
Qualcomm PM8921 - Power Management IC
Qualcomm RTR8600 - GSM / CDMA / W-CDMA / LTE RxD Transceiver + GPS
Texas Instruments WL1273L - Single-Chip 802.11a/b/g/n WLAN, Bluetooth, and FM
TriQuint TQP6M9017 - Dual-Band WLAN Module
RF Micro Devices RF7252 - CDMA/WCDMA BAND 2 Linear Power Amplifier Module
RF Micro Devices RF7303 - LTE/UMTS/CDMA BAND 3 Linear Power Amplifier Module
Inside Secure SECUREAD IC5C633I4- NFC Solution Module
Avago ACPM-5017 - LTE Band XVII Power Amplifier
Avago ACPM-7051 - Quad-Band GSM / W-CDMA Bands I & V Power Amplifier
Sony CXM3582UR - SP10T Antenna Switch
ST Microelectronics LIS3DH - MEMS Accelerometer
STMicroelectronics LSM330DLC - 3D Accelerometer & 3D Gyroscope
Synaptics Clearpad 3203 - Capacitive Touchscreen Controller
source:
UBM Tech Insights
Recommended Stories