BlackBerry World music and video rolling out in the "coming weeks"
3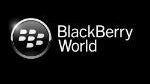 The rebranding is complete. BlackBerry App World has now become simply BlackBerry World, because the store is no longer focused solely on apps. The rebranding brings new content like music, movies, and TV shows to the store, and the new content should be rolling out to all users in the "coming weeks".
It is still unclear what the selection of music and video will look like, but RIM claims that the music section will have "millions" of songs. In addition to the store is BlackBerry Messenger Music, which is an odd app that aims to make you pay $5 per month to share your favorite music. BBM Music will let users choose 50 songs to be "profile tunes", 25 of which can be swapped out each month. The songs will be free for your BBM friends to listen to, and the service will be available for free for the first 30 days, and afterwards will cost $4.99 per month in the US. No word yet on international pricing. Also no word on why users would want to pay $5 per month for this. Google offers similar functionality on Google+, where users can share purchased music and anyone then gets one free listen to the tracks.
Like competing mobile content stores, RIM wants BlackBerry World to be "the one-stop shop for all of your mobile entertainment needs". Of course, right now, RIM is hoping that none of its users are entertained by reading.