BlackBerry Storm only Verizon offered 'Berry with VCast Song ID?
19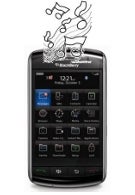 Ever hear a song, loved the tune, and wanted to download it on your cellphone, but you didn't know the title? If you are a BlackBerry Storm user on Verizon, you can not only name that tune and artist, but also add it to your phone's play list. We just heard from a tipster that for the last week, the VCast Song ID app has been added to the many features available on the BlackBerry Storm. According to our source, no other BlackBerry in Verizon's stable has had this app made available to it and it must be downloaded to the handset.
The VCast Song ID can identify more than 4 million tunes and will give the listener the name of the song, the artist and the album that the song appears on. After passing on that information, the listener is given the option of purchasing the title from Verizon.
Thanks to our Tipster!
*UPDATE*
A Verizon rep has confirmed to us that the VCast Song ID is now available on the BlackBerry Storm with just a download.