BlackBerry PlayBook gets defended from criticism in a TV interview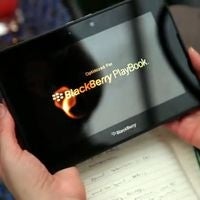 Remember when we
reported
how the
BlackBerry PlayBook
was being praised by users and developers alike? Well, things in real life did not turn out looking so bright. Reviews of RIM's anticipated tablet that followed actually brought up several of its shortcomings, namely the mysterious lack of an email client and the missing support for 3G wireless connectivity.
In a recent interview with
Bloomberg
, RIM's co-CEO, Jim Balsillie, did his best to defend the BlackBerry PlayBook from all the criticism it is receiving even though the tablet is not up for sale yet. Mr. Balsillie confirmed that an email client for the PlayBook will be out "very very soon" and will come as an over-the-air update. Until then, RIM's tablet will be able to handle emails and connect to 3G networks as long as it is paired with a BlackBerry smartphone. It was also noted that RIM was not considering email as being a "core component" of the PlayBook, which is quite surprising since that is what BlackBerrys are probably best known for. The rest of the interview seemed to be nothing more than corporate talk focused on features like Adobe Flash support and mutlitasking.
The BlackBerry PlayBook is launching on April 19, and we sure hope that RIM will not disappoint us with its entry to the expanding tablet market. Until then, feel free to watch the entire interview below and to check out our
first impressions
from the device.
source:
Bloomberg
via
Engadget