BlackBerry PlayBook HDMI-out Demonstration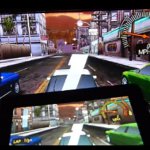 Considerably becoming one adorned feature that's beloved, the ability for a tablet to output content to just about any high-definition television is increasingly being offered by many devices. Fortunately for the
BlackBerry PlayBook
, not only does it have the ability to output full
1080p videos
stored locally, but it even provides a
mirrored experience
to extend the tablet's functionality.
After connecting the PlayBook with an HDMI cable, we're instantly greeted to the PlayBook's QBX based interface directly on our television set. Much like most things nowadays that offer this feature, you can basically accomplish the usual set of functions from web browsing, gaming, and viewing content – but you'll want to make sure you have a long enough cable to sit back on your couch while using the PlayBook. The response is definitely nice since it feverishly keeps up with whatever you're doing on the tablet, but it's definitely most evident with gaming where the PlayBook acts as the controller. Moreover, full 1080p videos play in full fidelity on the big screen, and honestly, it's just breathtaking to see it not stutter one bit during its entirety.
Even though RIM manages to include useful things like a neoprene sleeve and cleaning cloth with the PlayBook's retail packaging, it would've been lovely for them to pack along a microHDMI cable – still, you'll probably want to pick up the longest one if don't want some good distance between you and the television. Not sold yet on this feature? Well, you can check out our video below to experience for yourself what it's all about.