BlackBerry Passport appears on video; watch the QWERTY double as a trackpad
53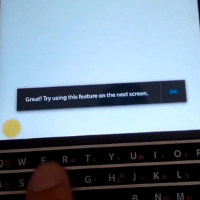 Thanks to its unique look and ambitious QWERTY keyboard, the BlackBerry Passport is one of the most intriguing handsets that has yet to be announced. With a 4.5 inch screen, and resolution of 1440 x 1440, the Passport presents a boxy look, with a very high pixel density. The phone offers 3GB of RAM and is powered by a 3450mAh battery. With BlackBerry 10.3 under the hood, the device comes out of the box with BlackBerry Assistant. This is the platform's answer to Siri, Cortana and Google Now.
On Friday, someone uploaded a video to YouTube that not only shows the BlackBerry Passport in action, it also shows how the physical QWERTY doubles as a touchpad. We've already told you that you can scroll web pages on the screen, by
brushing your finger lightly over the keyboard
. The video below shows this feature at work. Passport users are also able to double tap the keyboard to position the cursor precisely where they want it.
BlackBerry CEO John Chen must be pleased with the buzz created by the Passport. The phone is expected to be launched sometime in September, which means it will face competition from both the
Apple iPhone 6
and the
Samsung Galaxy Note 4
. Is the BlackBerry Passport up to that challenge?
Thanks for the tip, Khalid!
source:
Unlimit-Tech.com