BlackBerry Mercury stars on TV's Last Man Standing
17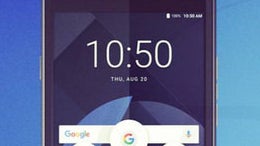 The BlackBerry Mercury has not been officially announced. Heck, it probably won't even be called the Mercury when it is launched. But that didn't stop the phone from making a television appearance on ABC's
Last Man Standing
, starring Tim Allen. This will be the last handset designed in-house by BlackBerry, and has a few features that make the device stand out on network television. One is the physical QWERTY keyboard found under the 4.5-inch screen. The second feature is the larger than average camera module on the back, and there is also the metallic "Passport-esque" top to the phone that gives it away.
Speaking of the
BlackBerry Passport
and Tim Allen,
the actor plugged the BlackBerry Passport during an appearance on the Jimmy Kimmel show
back in October 2014. We'd say that BlackBerry got a lot of free exposure on network television for it's upcoming handset. And all it had to do was provide a Mercury handset for the show. This could be a hint that BlackBerry plans on cracking open the piggybank to advertise the phone.
TCL has already made it clear that
the BlackBerry Mercury will be unveiled at MWC next month
in Barcelona. Even though
we've already had the opportunity to check it out at CES
, BlackBerry has been mum about specs, features, pricing and availability. MWC 2017 begins on February 27th, and we should hear much more about this phone as we get closer to that date. Keep checking in right here.
source:
Crackberry