BlackBerry Director expects to see the company sold off in parts in order to compete as niche player
22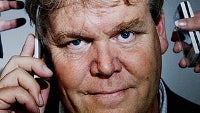 BlackBerry director Bert Nordberg says that the Canadian OEM is not going to survive if it tries to challenge iOS and Android. Instead, he says that BlackBerry can survive as a niche player in the industry. Nordberg says that the board has "
subsets within the company that it can get rid of
," although he wouldn't list which parts of the business he has in mind.
Nordberg, a 57 year old Swede, joined BlackBerry's board in February along with former Verizon executive Richard Lynch. He states that the board understands the value that has been created in enterprise business, hardware functionality and secure communication, but needs to do a better job getting Wall Street to put a realistic value on the company. Admitting that battling the big guys like Apple, Samsung and Google is tough, Nordberg says that BlackBerry should decide to be a specialty player and stick to that decision.
"I think BlackBerry is able to survive as a niche company. But being a niche company means deciding to be a niche company. Historically, BlackBerry has had larger ambitions. But battling giants like Apple, Google and Samsung is tough."
-Bert Nordberg, Director, BlackBerry
The director says that the company is unique in the smartphone industry. "BlackBerry is strong on the enterprise business, its products are NSA-proof in the sense that you can't intercept their communication, its handsets' keyboards have many fans around the globe, and the company has a leading worldwide data network," and while he has attended only three board meetings, the special committee of the board talks weekly and Nordberg believes that they all share his view of BlackBerry.
There are many different things that the board could decide. It could sell off the enterprise business to a large computer company like IBM, sell off the handsets business to an upstart Chinese manufacturer like Lenovo, and possibly keep software. No matter how you slice it, BlackBerry will probably not look the same in 6 to 12 months. The board could decide to see how the 5 inch top-shelf
BlackBerry Aristo
fares when it is launched in November as expected, but why delay the obvious?
Nordberg has a history of turning around companies. He helped turn around Swedish networker Ericsson in the early 2000's in part by axing 60,000 jobs or more than half the payroll. As CEO of Sony Ericsson, he saw the handwriting on the wall and sold Ericsson's stake to the Japanese OEM. Last year, as CEO of Denmark's wind turbine maker Vestas Wind Systems A/S, he had to oversee thousands of job cuts to help right the ship.
"As a CEO of Sony Ericsson, deciding to bet on Android was an easy decision. With BlackBerry things are definitely much harder. Blackberry's security framework is built into the mobile software, so you can't just decide to change operating system. But BlackBerry has cash and it has no debt, so I'm sure that we'll piece something together at the end of the day."
-Bert Nordberg, Director, BlackBerry
If Nordberg's emergence makes BlackBerry employees nervous about their job security, its understandable. But sometimes jobs need to be eliminated to make a company stronger.
"Sure, I've been involved in cutting many jobs in my career. But flipping the coin, I'd like to remind people that if a company like Ericsson hadn't been saved, thousands of jobs would have disappeared forever. Ericsson is now back being a company with over 100,000 employees."


source:
WSJ