BlackBerry Curve 3G now on sale through Sprint for $49.99 on-contract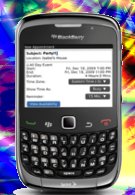 Sprint customers now have the opportunity to scope out the latest smartphone from RIM's camp as the BlackBerry Curve 3G is now available for the respectable price of $49.99 with your signature on a 2-year agreement. Aside from its better feel and construction over the existing BlackBerry Curve 8530, which is surprisingly also priced at $49.99, the Curve 3G is the newest device on the block which should appease long time BlackBerry owners with its rich features and eventual upgrade to Blackberry OS 5.
There might be other handsets on Sprint's lineup that are priced evenly with the Curve 3G, such as the Palm Pre and other feature phones, but that's not going to prevent people from looking at this equipped handset – in reality, it probably stands well above those other devices. So if you've got $50 tucked away in your wallet, you may want to consider the BlackBerry Curve 3G for Sprint as your next handset of choice.
RIM BlackBerry Curve 3G 9330 Specifications
|
Review
(Verizon)
source:
Sprint