BlackBerry CEO could make $55.6M by selling the company
34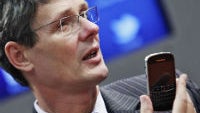 Pop quiz: what is the reward for taking charge of a sinking ship and failing to keep it from going down? If you answered $55.6 million, you are correct. According to a proxy report filed in May, that's how much BlackBerry CEO Thorsten Heins stands to make if/when the company is sold and he is removed as CEO. And, the worst part of it is that it was the BlackBerry board of directors that are responsible for Heins' windfall.
Apparently, when Heins was offered the position of CEO, the BlackBerry board structured his contract in such a way that if the company is sold and Heins is removed from his position, Heins will be due $55.6 million in salary, incentive payments, and equity awards. This is based on BlackBerry's stock price at the end of the fiscal fourth quarter, and the plan was approved by shareholders on July 9th.
Given the troubled position of the company over the past few years, it's hard to understand why the board would structure Heins' deal like this. But, the BlackBerry board has made a series of bad decisions that have helped lead the company into the position it is in now, so maybe it's not that surprising.