BlackBerry 10 software demonstration at CES
44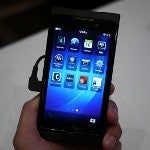 In just a few weeks from now,
RIM
is about to embark in a new chapter in its storied history. As we all know, they're going to be having a
press event
where they'll unveil some of the upcoming new devices running on the totally new
BlackBerry 10 platform
, which as we all know, has a lot to contend against in the always-competitive smartphone landscape. Luckily, we managed to score some time with the good folks over at RIM during the Consumer Electronics Show in Las Vegas.
Of course, there were no actual new devices in sight for the occasion, but rather, we checked out a
Dev Alpha unit
showing off some of the cool features with the new platform that RIM is developing. Honestly, we weren't expecting to be totally blown away by this platform, especially when their previous efforts didn't quite gain the traction amongst consumers. Sitting back and watching the platform in action, we're instantly
mesmerized
by how different the approach is this time around with the presentation, scope, and functionality of the platform.
Rather than going through the specifics here, it's best to check out the video below to get acquainted with what to expect when the full experience is unveiled later this month. However, we'd like to point out that the
platform simply flies
– like buttery smooth with everything! From loading and browsing web sites to multi-tasking between two different apps, there's just this
consistency
in performance that catches our attention. Heck, even the way that RIM carries out predictive text is pretty neat!
All in all, if this is merely a small snippet in what's to come, we're absolutely dying to see the entire thing come later. Naturally, it's going to be rather difficult to penetrate the market right now with a new experience, but as we're all aware, RIM has some dedicated fans that'll undoubtedly stick to it until the end! Are we excited about this? Totally!