Bill Gates pushed $8.5 bln Skype acquisition
8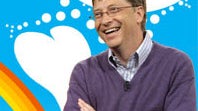 Former Microsoft man-in-charge Bill Gates might not steer the wheel in Redmond anymore, but he could have been an important factor in the company's
industry-changing $8.5 billion acquisition of Skype
. In an interview with BBC, Gates himself noted that he was "
a strong proponent at the board level for the deal being done
." But is this enough of a justification for Microsoft's largest acquisition to date, which raised a lot of eyebrows last week? According to Gates it certainly is: "I think it's a
great, great deal
for Skype. I think it's a great deal for Microsoft," he added.
It seems that Gates is still a strong influence for Redmond and if you're living in the UK, you can take a look at what one of the richest people in tech had to say about the growing importance of software and video conferencing in the interview at the source link below. On the
infographic on the right
you can also check out how Skype made it from a little-known software company started in Estonia to getting acquired by eBay and finally to a staggering $8.5 billion value.
source:
Pocket-lint
and
TheNextWeb