Bezel-free Apple iPhone coming?
29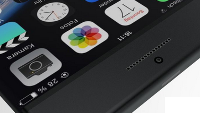 NOTE:
The bezel-free Apple iPhone in the image to the left is a concept version produced by Hasan Kaymak called the iPhone 7 Edge.

According to Apple's supply chain, the tech giant is considering switching from using the in-cell technology for iPhone displays, to either glass-on-glass or on-cell glass. Either of the two techniques would allow Apple to produce a bezel-free version of its iconic smartphone. The problem with using the in-cell technology is that it is not responsive to touch inputs around the edge of the display.
Supply chain sources say that Apple is trying to develop a phone using a glass-on-glass display that is as thin as its current iPhone models, which employ in-cell displays. The latter would also make it difficult for Apple to produce 4K resolution screens for a future iPhone handset. According to the supply chain, TPK is using a combination of a glass-on-glass substrate laminated with a thin film. But the best that the company can do now is make a screen no thinner than 8.5mm. TPK believes that it can reduce that to a thickness of 7.1mm which happens to be the exact measurement of the
Apple iPhone 6 Plus
. It isn't clear whether Apple would be able to make any adjustment in time for this year's iPhone models, or if the change will happen in 2016 or beyond.
Apple and some of its suppliers are working on other new technologies that they hope will produce responsive displays that will allow them to offer a bezel-free display. Such a screen would let Apple offer new capabilities for the iPhone by making the edge of the screen functional. Other companies, particularly ZTE, have made the extra real estate on a bezel-less screen particularly useful by allowing users to swipe the sides of the glass in order to control certain functions.
Thanks for the tip, Suzanne!
source: PatentlyApple via
iDrop