Best new Android, iPhone and iPad games for November 2012 (part 2)
2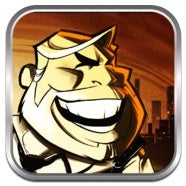 November is probably the busiest month of the year for smartphones and tablets, and it's not just about new devices flooding the market - we were swamped with games from all sides, and for the first time this year we had to actually split our game selection in two parts. It was all just too large to fit a single article!
This is part two with nearly twenty games to discover, but don't hesitate to also take a look at part one with 15
new Android and iPhone games
for November where we cherry-picked from the Play and App Stores to include only the best.
With November's best new Android, iPhone and iPad games we are also just one step away from closing the year and we can't wait to take a look back at the best mobile games released this past year. Stay tuned for that next month!
Now, with no further ado, let's check out all the new Android, iPad and iPhone games for November right below. Feel free to share your favorites in the comments section right below!
Best new Android, iPhone and iPad games for November 2012 (part 2)