Best new Android, iPhone and iPad games for June 2013
7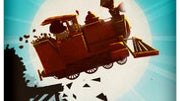 June has come and gone bringing us the usual dose of high-quality apps for Android and iOS. We are seeing more complex and graphically-intense titles arrive on mobile platforms and it's an absolute joy to see how quickly console grade games are appearing in application stores.
Right before the end of the month we saw one of the most popular racing games of all times,
Colin McRae, arrive for iPhone and iPad
, but the majority of new releases gracing application catalogs were mobile-exclusive titles.
You get the usual variety in genres - from puzzlers to action games. We loved the logical thinking required by games like Bridgy Jones, and endless runners like Despicable Me were a great way to kill time.
As always, we have summed up the best new Android, iPhone and iPad games right below. We are looking forward to your opinion about them and feel free to also chip in with your favorites in the comments section below.
Missing closing tag TEXT