Best new Android and iPhone games of the week (July 14th - July 20th)
2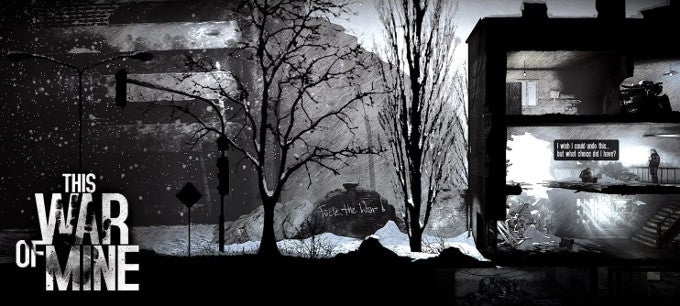 Let's start off the week with some fun with the best new Android and iPhone games so far in July 2015! In our weekly round up of the best new Android and iPhone games we introduce you to everything new and worthy with no limits to the genre, platform, or price. We can't guarantee that you'd love the genre of the game we've picked, but if you do, chances are you'd spend hours playing one of these games.
This War of Mine is a game you will remember
There are a few highlights this week, but the game we've picked as the headliner is 'This War of Mine', a truly immersive and different platformer adventure that tells the story of war from the point of view of civilians struggling to survive through hunger and constant danger. With a somewhat scary soundtrack that will keep you alert at all times and with its cruel honesty, the game will definitely be remembered.
There is a couple of great
pixel
art brawlers that are also at the top of your playlist, as well as a new turn-based strategy, and a game about insane trucks which turns out is a lot of fun. That's hardly all, though, so for the full list of must-play games this week, take a look at the best new Android and iPhone games of the week, all right below.
This War of Mine
Price: $9.99 (launch price)
Genre: Platformer adventure
This War of Mine is a game that will leave a permanent mark: a tale of survival, it is a story-driven adventure shown from a platformer perspective, with an immersive soundtrack that will make you feel the horror of war and will drive you to take the right choice to survive. In stark contrast with popular war games, here, you are not the one to serve justice to the bad guys - instead, you take over a group of civilians trying to survive in a besieged city; struggling with lack of food, medicine and constant danger from snipers and hostile scavengers. The pace of This War of Mine is imposed by the day and night cycle. During the day snipers outside stop you from leaving your refuge, so you need to focus on maintaining your hideout: crafting, trading and taking care of your survivors. At night, take one of your civilians on a mission to scavenge through a set of unique locations for items that will help you stay alive.
Guardian Sword
Price: $1.99
Genre: Action platformer
Goblin Sword is a retro-inspired action platformer with charming pixel art graphics and light role-playing elements. The story is not particularly deep - an army of monsters led by an evil wizard have invaded your hometown, and you just have to slay as many monsters as you can, collect loot, avoid dangerous traps and defeat menacing bosses, before facing the evil wizard himself. However, the gameplay is what's really all about here as we have an addictive and dynamic fantasy world to slash your way through.
Samurai Blitz
Price: Free (with in-app purchases)
Genre: Endless hack'n'slash
Samurai Blitz is another retro-styled, pixel-art platformer in the hack'n'slash style, but rather than being about the fantasy world of goblins, it's about a samurai with 16 tunics, 9 katanas and 5 magic powders that you can buy and enjoy a very diverse and dynamic gameplay. Samurai Blitz offers 6 pixel-drawn environments and the fun comes as you chain together combos to get better rewards for every eliminated enemy.
Trucksform
Price: Free (with in-app purchases)
Genre: Truck racing
Trucksform is not your usual truck racing game: here, you start with a choice of four crazy trucks (the off-roader, the gun truck, the drill truck and the insane helicopter truck) that get even crazier with guns and other upgrades giving them super powers. Your journey will take you through several continents, from desert dunes to volcanic mountains and lush green hills, all spread over 60 action-packed levels. The game even has some story to it: with the Earth about to explode, you get to help Dr. Brainz as you drive that off-road transforming truck to tackle difficult terrains and gather the necessary artifacts needed to build the world-saving saving Magma Stabilizing Machine.
Avernum 2: Crystal Souls HD
Price: $9.99
Genre: RPG
Avernum 2: Crystal Souls is an indie, fantasy role-playing adventure in the subterranean land of Avernum, full of strange caves, cunning dungeons, and the alien inhabitants of the underworld. You get to explore the massive, underground nation of tunnels and caverns, packed with over 100 towns and dungeons and 40+ hours of gameplay. The game features three distinct game-winning quests and sports a rich game system with over 60 spells and battle disciplines and a multitude of beneficial character traits to choose from.
Warhammer 40000: Deathwatch - Tyranid Invasion
Price: $4.99
Genre: Turn-based strategy
Warhammer 40,000: Deathwatch: Tyranid Invasion is a turn-based strategy game, set on the
edge
of Imperial space, where your Space Marines will take on the Tyranids in a series of tactical engagements. From war ravaged cities, to the insides of Tyranid bio-ships, the missions will see your Kill Team rise in strength and skill as you face ever greater threats and peril.
Always Sometimes Monsters
Price: $4.99
Genre: Adventure
Always Sometimes Monster is a remake of the PC game for mobile, and it's a story-driven experience focusing on relationships and emotional bonds rather than traditional RPG combat and adventuring. Indecision is your enemy and empathy is your weapon in a quest to earn one last chance to win back the love of your life. Out of money and out of luck you find yourself broken hearted and on the verge of collapse. Your landlord's taken the key back, you can't finish your manuscript, and your beloved is marrying someone else. With no choice but to handle whatever life throws at you, you set out on the open road on a mission to win back the love of your life.
Barcode Knight
Price: $0.99 (with in-app purchases)
Genre: Brawler with RPG elements
'Barcodia', the world is made from magic powers, was peaceful and beautiful, but the power of evil hit the world, the land became empty and useless and started infesting with monsters. Barcodians who livelihoods are under threat was decided to hunt monsters for a living. And then one day, they found a portal to a dungeon and built a town around the portal.
Mountain Goat Mountain
Price: Free (with in-app purchases)
Genre: Endless vertical jumper
Mountain Goat Mountain is a fast arcade game, where you climb the highest and most treacherous mountain ever seen by a goat. This fast-paced endless vertical jumper has a constantly changing environment with trampolines that will get you higher and challenges that you should avoid, and it's a fun casual experience.